Since 2011 Vecinos has provided over $60,000 scholarships to students in South Pasadena. These students personify our shared values of hard work, perseverance and a commitment to community.
Solana Cordon —  $3,000 
Solana will enroll at Emerson College in Boston, where she will study Global Film Arts to expand her artistic abilities within the entertainment industry, building on film experiences in France and the United States. She served as Head of Design for the Copa de Oro yearbook, volunteered in a classroom at Arroyo Vista Elementary School, taught in a rural school in Costa Rica, as well as volunteered at the Los Fotos Program in Boyle Heights which helps students  channel their creativity through media arts.   As a descendant of family members who risked their lives to come to the United States from Guatemala, she created "Gracias a la Vida: Latina Voices of South Pasadena", a public website and social media page to represent and share cultural awareness while at SPHS. The project has been showcased and used in South Pasadena and beyond.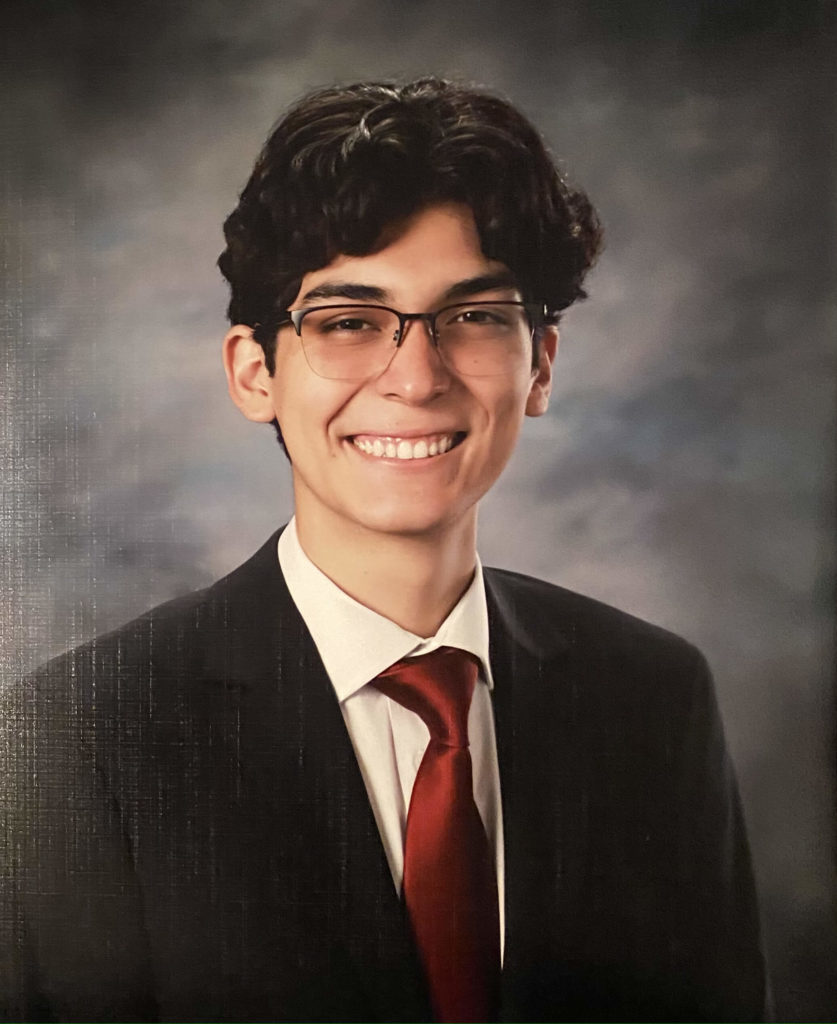 Eric Cuellar —  $500 
Eric will continue his studies at Pasadena City College and then transfer to a University of California campus where he can continue his work and preparation for a career in video production. He was very active as the ASB videographer recording various events ranging from promotional videos of school plays and dances, assemblies and athletics.  His SPHS Semester One Look Back Video received prominent recognition and he was awarded a Certificate of Appreciation by the PTSA for his "outstanding work as SPHS photographer and videographer." He and his work was also spotlighted in the yearbook.
Top to bottom, left to right: Derek Vaughan (Board Member), Lulu Talesnick Lopez, Samuel Salseda,Emily Garcia, Tony Rodz, Emily Albornoz, Janna Nava Philpot (Board Member), Julieta Frias, Sofia Farmarco. Photo credit: Willow Baughman
Diego Williams — ($500 prize) will enroll at the University of Chicago as a math major.  Among his high school activities was serving as a volunteer for Program for Torture Victims assisting asylum seekers and refugees arriving in the United States, many from Latin America.  He plans to study math because it is a good challenge and that there is seldom ever only one way to solve a problem.
Sofia Farmarco — ($500 prize) will go to UC Davis as an English major.  She was Latinx Student Union Social Media Manager for two years and participated in the Youth Latinx Leadership Conference.  She is leaving her options open; while becoming a published author is is one potential avenue, she is also considering the field of education and in particular becoming a Spanish Dual Immersion teacher. 
Carolina Garavito — ($500 prize) is headed for Pasadena City College to major in music industry and business and hopes to continue her studies at USC, NYU or the Berklee College of Music. She has been a Latinx Student Union member since it was founded.  Her goal is to work as a musician, producer, scoring movies, or becoming an entertainment lawyer in the music industry, which she calls her true calling.
Lulu Talesnick López — ($1,000 prize) is headed for UC Berkeley as an undeclared major.  She not only founded the non-profit group Essential Bags LA, which distributes care kits with environment-friendly products to the unhoused in Los Angeles, she is also a co-founder of the SPHS Anti-Bias Club.  She also made time to compete in volleyball, and was active in drama.  A fighter for diversity and inclusivity, she advocated a Black Lives Matter mural.  She plans to use her education and experience to continue her advocacy for unity, inclusion and equity.
Emilly Albornoz — ($1,000 prize) will be a student at the Massachusetts Institute of Technology, where she plans to major in mechanical engineering and minor in music performance, with an emphasis on acoustics.  At SPHS she volunteered for the Boys and Girls Club, where she tutored low-income students, and started a penpal club through Ability First for disabled kids and teens.  She is interested in the intersection of music and physics in designing hearing aids, concert halls, and classrooms.
Julieta Frias — ($1,000 prize) is headed for UC Santa Cruz, where she plans to major in political science or education.  She was vice president of the SPHS Latinx Student Union, which she and her friends organized to raise funds and launch programs to help others by partnering with organizations like Casa De Alegria and a Latino Family Institute.   As part of Principles of Education, she worked in a second-grade classroom, learned about learning disabilities, and helped students with math.
Tony Rodz — ($1,000 prize) will enroll at New York University as a nursing major.  An original member of the Latinx Student Union, he was involved in a wide-range of activities, including doing research on health care needs of Latinx and Black communities.  He also served as an academic coach for AP Spanish and often tutored others in Spanish in a non-judgemental manner, allowing them to make mistakes without embarrassment.  By combining his knowledge of Spanish and Japanese, he plans on becoming a Latinasian nurse.
Emily Garcia — ($1,000 prize) will enroll at Oregon State University-Cascades and major in art.  At SPHS she was Art Club president and created a diverse art environment with people of different ethnicities.  She also studied studio art at Ryman Arts.  Emily is already a proven entrepreneur who sells her art in the form of custom press on nails.  Her artistic interests are not limited to this, but she also has an interest in architecture and math.
Samuel Salseda — ($1,500 prize) will enter Brown University as a biomedical engineering major.  At Loyola High School he worked with the Los Angeles County Hispanic Managers Association to increase funding for scholarships of low-income Latinx students and tutor other students in math and physics.  He hopes to include Latinx studies and philosophy in his college studies as he prepares for a career in medicine or medical engineering.  —
Tonalli Garcia-Rodriguez – $3,000
Tonalli will attend UCLA where she plans to major in Latin American Studies.  She hopes to combine her love of film-making with her studies in Latin culture.
Katelyn Hernandez – $1,500
Katelyn will attend Cal Poly Pomona where she plans to major in Political Science.
Brian Zepeda – $500
Brian will attend PCC with a desire to transfer to a four-year college to pursue a degree in photography.
Alexander Parra – $2,500
Alexander will attend U.C. Berkeley in the fall and major in Computer Science.  
Anthony Uriarte – $2,500 
Anthony will attend New York University in the fall where he will pursue a degree in business with a concentration on finance, where, upon completion he'll be poised to pursue a career in finance on Wall Street.
Evelyn Valencia  – $1,000 
Evelyn will continue her education at Pasadena City College initially and plans to transfer to a UC using the Pathways Program.  She plans to major in business.
Sarah Uriarte – $1,500
(awarded $500 in 2019 & $1,000 in 2020) 
Sarah will attend Brown University in the fall and plans to enroll in the Program in Liberal Medical Education (PLME), which includes both undergraduate and medical school studies. After medical school she hopes to start her own clinic as a medical physician.  She hopes to use both her medical training and Spanish as a doctor treating Latino communities.
Andrés Oyaga -$1,500
(awarded $500 in 2019 & $1,000 in 2020)
Andres will attend Middlebury College in Vermont in the fall. Andés desires to become a Conservation Biologist with a focus on protecting the whale sharks in the Sea of Cortez. He'd like to become a scientist at the World Wildlife Fund and help  lead the conversation about the dangers of plastic pollution.
Marisa Amaya – $2,000
Marisa plans to attend the University of Oregon, where she will major in Political Science with a minor in Spanish. Her future goals include law school and immersing herself in civil rights by working as a bilingual attorney or running for public office.
Will Hoadley-Brill –  $1,500
Will's goal is to empower people with systems and resources to become their ideal selves. He'll be attending The George Washington University in the Fall majoring in International Relations with an emphasis in conflict resolution. He hopes to gain an international platform from which he can serve the neediest in the world and promote a global culture of caring and empathy.
Madalyn Orozco – $500
Madalyn's goal is to graduate from Cal Poly Pomona with a degree in Psychology, then to pursue a Master's degree and become a credentialed clinician.
She aspires to work in a low performing school district with first generation students and
build a connection with the students and parents alike.
Madelin Ruth Cordon – $2,000
Anissa Santos – $1,500
Nour Mallat- $500
Christina Valdivia- Gatmaitan – $2,000
Oskar Alexander Hernandez – $2,000
Marissa Sanchez – $1,500
Jung Su Park – $500
Adam Martin Espinoza, $3,000 –Adam will major in computer science and business and be the next Silicon Valley entrepreneur. He will attend USC in the fall.
Katherine Uriarte, $3,000  – Katherine desires to be a biomedical scientist and develop treatment and cures. She will attend Columbia University in the fall.
Isabella Martinez, $1,500  – Isabella desires to become a pediatric surgeon and be the first in her family to attend college. She will attend Loyola University New Orleans in the fall.
Justin Fernandez, $1,500  – Justin a future college or high school coach, will major in kinesiology. He will attend CSULA in the fall.
Victoria Limón, $1,000

 – 

 Victoria, a future surgeon who will attend SMCC in the fall.
Julian Alfonso López, $500+ 

 – 

Julian ,a future medical doctor who will attend PCC in the fall.
Ryan Nakakura, $3,000  – Ryan will major in political science at UCI and plans have a career in government. 
Cuauhtemoc Garcia-Rodriguez, $3,000  – Cuauhtemoc will attend UCSB in the fall and desires to be a writer.
Adrian Suarez 

$2,000 

 –

  Adrian will attend Johns Hopkins University in the fall with plans to 

eventually 

become a neurologist.
Sophia Benavides, $1,000  – Sophia hopes to be an FBI agent and will attend USC in the fall.
Natalie Crespo, $1,000  – Natalie would like a career as an OBGYN and will attend UCSB in the fall.
Marlene Figueroa
Tyler Armstrong
Sabrina Pierce
Cynthia Ream Garcia
Francisca Lujano
Michael de la Torre
Justine Turrietta
Cristina Venegas